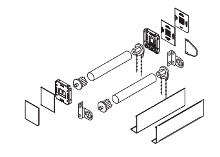 Material:

Fabric or Vinyl

Operating System:

Clutch Operated

Spring Assist

Crank Operated

Motorized

Max Width:

144"

Max Height:

144"

Colors:

260 possibilities

Tube Sizes:

1.5", 2"

Valance Options:

Fascia - Available in 5 colors

Headbox with closure

Privacy & Light Control:

Specialty Applications:

Uniform Exterior Appearance:

No

Orientation:

Horizontal

Safety Features:

Cord tensioner

Motorization options available

Sustainability Features:

GreenGuard Children & Schools certified

PVC free fabrics

Cradle to Cradle certified

Oeko-Tex certified

Texy-Loop certified

Insulation:

Solar Heat Control:

Daylighting Properties:

Yes

UV Protection:

Sound Absorption:

Ease of Cleaning:

High Humidity Applications:

Yes

Price:

$
Manual FlexShades are a sensible choice for standard window treatments. Choose from a wide range of attractive, light-filtering and light-blocking fabrics to enhance a building's energy efficiency. Installation choices range from simple mounting brackets, to endcaps and fascia, to extruded pockets with bottom close panels and side channels.
Operating System

Bead Chain Clutch Operating System —10lb, 20lb, and 24lb clutches available, depending on the size of shade and the fabric selected. Spring assist also available. Can be mounted either on right (standard) or left. Shades stop when chain is released.
Spring Roller—Galvanized steel rollers and heavy-duty springs sized to operate safely and reliably. Roller is under constant tension, with a latching chain at sill.
Motorized — Compact, tubular gearmotors located within each roller for smooth, reliable operation.

Crank Operator — Easily operate tall shades, wide shades, even groups of shades from a single controller. Sll shades are raised or lowered to exactly the same height.

Stainless steel (standard) or nylon bead chain hangs at the side, leaving the view unobstructed.
Up and down stops prevent shades from being raised or lowered too far.
Our spring-loaded idler and universal brackets offer installation ease and flexibility.
Optional Spring Assist (large units require fixed-pin idler).
Cord tension device is included, keeps loops from being easily accessible and out of reach of children. Optional Spring-loaded Chain Tension Device is available - inhibits operation until mounted and locking mechanism is depressed. Recommendned where children are present.
Specialty Options
Aluminum fascia or pocket system available in five colors - anodized, black, bronze, white and ivory
Coupled shade option
Spring assist available
Wide range of fabrics to choose from in various opennesses
GreenGuard certified fabrics
Colossal FlexShades for oversized openings
Graphic printing available
Download & Link Center
Welcome to the MAG Resource Center. You can rely on MAG to provide you with reliable, trustworthy, credible product and industry information. Here you can find information and literature to help assist you in your buying or specifying process and on through to the installation, care, and maintenance of your product. If you can't find what you're looking for call MAG today at 330.294.0494 and speak with a knowledgeable Account Manager.