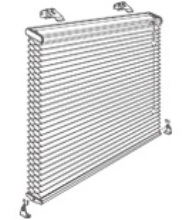 CrystalPleat by Graber
Request a quote for price
CrystalPleat® double-and single-cell shades provide excellent energy-efficiency and acoustical properties. The unique cell construction delivers superior pleat retention and light control. Cords and cord holes are hidden providing greater privacy than conventional shades. All CrystalPleat® fabrics are ultra soft and backed with a neutral color for a consistent street-side appearance.
request literature
request a quote
Material:

Aluminum

Cell Size:

3/8" Single Cell

3/8" Double Cell

3/4" Single Cell

Operating System:

Cordlock

Continuous Cord Loop

Cordless

Max Width:

192"

Max Height:

144"

Headrail:

3/8" Cell - .665 x 1.54" aluminum headrail

3/4" Cell - .812 x 2" aluminum headrail

Colors:

55 possibilities

Privacy & Light Control:

Specialty Applications:

Top Down/Bottom Up

Top Down

Sun Up/Sun Down

Angle Top

Circle, Semi-Circle

Special Shapes

Skylight

Uniform Exterior Appearance:

Yes

Orientation:

Horizontal

Safety Features:

Cordless operating system

Sustainability Features:

All componentry 100% recyclable

Plastic componentry contains 50% pre-consumer recycled material

Insulation:

Solar Heat Control:

Daylighting Properties:

Yes

UV Protection:

Sound Absorption:

Ease of Cleaning:

High Humidity Applications:

Yes

Price:

$
Color-coordinated aluminum head and bottom rail
Snap-in hidden brackets
Concealed cords
Continuous cord loop option
Specialty shape option
LIfetime Warranty
Competitive pricing
Springs Window Fashions promotes recycling and the use of recycled materials in all areas of our manufacturing process. This includes:
recycled steel and aluminum in all products
recycled vendor packaging in all facilities
re-grinding of plastic waste in our injection and modling processes
extensive recyling in all SWF offices and facilities
Specialty Options:
Specialty Applications:
Circles, triangles, octagons, arches
Top Down
Top Down/Bottom Up
Sun Up/Sun Down
Skylight blinds
Angled tops and bottoms
Download & Link Center
Welcome to the MAG Resource Center. You can rely on MAG to provide you with reliable, trustworthy, credible product and industry information. Here you can find information and literature to help assist you in your buying or specifying process and on through to the installation, care, and maintenance of your product. If you can't find what you're looking for call MAG today at 1-800-COVER ME and speak with a knowledgeable Account Manager.