Spring Roller FlexShade by Draper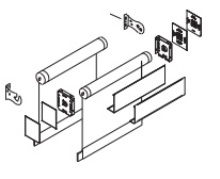 Material:

Fabric or Vinyl

Operating System:

Max Width:

144"

Max Height:

144"

Colors:

260 possibilities

Tube Sizes:

2"

Valance Options:

Fascia - Available in five colors

Privacy & Light Control:

Specialty Applications:

Uniform Exterior Appearance:

No

Orientation:

Horizontal

Safety Features:

Sustainability Features:

GreenGuard Children & Schools certified

PVC free fabrics

Cradle to Cradle certified

Oeko-Tex certified

Texy-Loop certified

Insulation:

Solar Heat Control:

Daylighting Properties:

Yes

UV Protection:

Sound Absorption:

Ease of Cleaning:

High Humidity Applications:

Yes

Price:

$
Manual FlexShades are a sensible choice for standard window treatments. Choose from a wide range of attractive, light-filtering and light-blocking fabrics to enhance a building's energy efficiency. Installation choices range from simple mounting brackets, to endcaps and fascia, to extruded pockets with bottom close panels and side channels.
Designed specifically for institutional use.
Manufactured to endure the toughest conditions.
Spring Roller Shades are offered in a wide range of room darkening and woven mesh fabrics.
Traditional window shade operation. Metal rollers and heavy-duty springs operate any shade through 12´ wide x 12´ high.
Large Diameter Institutional Metal Rollers—All shades are mounted on rigid steel rollers that house heavy-duty springs. Our ball-bearing style locking mechanism operates more smoothly than other devices on the market. Spring mechanism can be replaced easily in the field.
Fabric Attachment—Fabric is attached to roller with an industrial adhesive, designed to withstand high temperatures and moisture. This adhesive attachment eliminates drilling or unsightly fasteners and gives a strong, permanent bond that leaves a smooth, attractive surface. Virtually eliminates laddering.
Heat Seamed—Hems are heat seamed for added strength, which prevent hems from unraveling and tearing.
Kiln-Dried Hard Maple Slats—Indiana hard rock maple, 7/8˝, 1-1/4˝ or 1-1/2˝, at our discretion. Ten times stronger than pine slats. No "finger joints."
White Cord—Hard braided large diameter cotton cord, attached to slat with screweye and cord clasp. Screweye doesn't weaken slat like punched eyelet holes on shades of lesser quality.
Heavy-Duty Cadmium-Plated Hardware—Heavy plated steel hardware.
Optional Fascia Available with an attractive aluminum fascia to conceal hardware and roller.
Transom Style Shades also available. Recommended for hopper windows, doors, and other operable windows. Shade mounts at bottom of window, pulls up through N-10 locking pulley. Shades are held taut over glass area and don't interfere with operation of windows. Available in any of Draper's fabrics. (Cord and pulley may be offset to the left to avoid window hardware.)
Specialty Options
Aluminum fascia in five colors - bronze, black, white, ivory and anodized
Wide range of fabrics to choose from in various opennesses
GreenGuard certified fabrics
Graphic printing available
Download & Link Center
Welcome to the MAG Resource Center. You can rely on MAG to provide you with reliable, trustworthy, credible product and industry information. Here you can find information and literature to help assist you in your buying or specifying process and on through to the installation, care, and maintenance of your product. If you can't find what you're looking for call MAG today at 330.294.0494 and speak with a knowledgeable Account Manager.