LightBloc FlexShade by Draper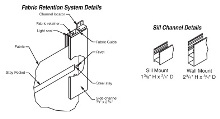 Material:

Fabric or Vinyl

Operating System:

Clutch Operated

Spring Assist

Crank Operated

Motorized

Max Width:

96"

Max Height:

120"

Colors:

260 possibilities

Tube Sizes:

1.5", 2"

Valance Options:

Headbox with closure - Available in 5 colors

Privacy & Light Control:

Specialty Applications:

Uniform Exterior Appearance:

No

Orientation:

Horizontal

Safety Features:

Cord tensioner

Motorization options available

Sustainability Features:

GreenGuard Children & Schools certified

PVC free fabrics

Cradle to Cradle certified

Oeko-Tex certified

Texy-Loop certified

Insulation:

Solar Heat Control:

Daylighting Properties:

Yes

UV Protection:

Sound Absorption:

Ease of Cleaning:

High Humidity Applications:

Yes

Price:

$
Manual LightBloc FlexShades are a sensible choice for standard window treatments, specifically in audio/visual rooms. Choose from a wide range of attractive light-blocking fabrics to enhance a building's energy efficiency. Installation choices range from simple mounting brackets, to endcaps and fascia, to extruded pockets with bottom close panels and side channels.
Operating Systems

Bead Chain Clutch Operating System —10lb, 20lb, and 24lb clutches available, depending on the size of shade and the fabric selected. Can be mounted either on right (standard) or left. Shades stop when chain is released

Spring Roller—Galvanized steel rollers and heavy-duty springs sized to operate safely and reliably. Roller is under constant tension, with a latching chain at sill.

Crank Operator — Easily operate tall shades, wide shades, even groups of shades from a single controller. Sll shades are raised or lowered to exactly the same height.
Motorized — Compact, tubular gearmotors located within each roller for smooth, reliable operation.

No light gap at the headbox side channel connection.
Internal light seals and opacity plates eliminate all light leaks, with no light gap at headbox/side channel connection. Light proof hem bar recesses into light proof side channel.
Precision engineered and custom built for each opening.
Durable anodized and painted finishes ensure an aesthetically pleasing installation.
System includes aluminum headbox, side and sill channels. Headboxes available to recess or surface mount.
Exclusive, patented Fabric Retention System prevents disengagement of fabric from channels Exclusive, patented Fabric Retention System is available with SB/9000 and SB/9100. LightBlocs are available in other fabrics but without fabric retention system.
Specialty Options
Aluminum pocket system
Side channels and headbox available in five colors - anodized, black, bronze, ivory, or white
Wide range of fabrics to choose from in various opennesses
GreenGuard certified fabrics
Graphic printing available
Download & Link Center
Welcome to the MAG Resource Center. You can rely on MAG to provide you with reliable, trustworthy, credible product and industry information. Here you can find information and literature to help assist you in your buying or specifying process and on through to the installation, care, and maintenance of your product. If you can't find what you're looking for call MAG today at 330.294.0494 and speak with a knowledgeable Account Manager.