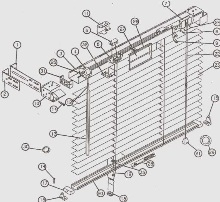 1" Catalina by Caco
Request a quote for price
Catalina 8 and 6, 1" aluminum mini blinds incorporate the best features available in the industry today. Catalina's durable 1" x 1 1/2" steel headrail makes use of our heavy-duty snap in component system designed for reliability. Either one of Catalina's 8 or 6-gauge premium aluminum alloy slats come in flawlessly painted and metallic finishes in a wide range of designer colors. Catalina's top slat colors are treated with Dust-protector, an antistatic paint additive to help reduce dust accumulation. Catalina blinds perform effortlessly with a snap-in designed clutch tilter, corrosion resistant steel tape drums and crash-proof safety cord locks with the built in cord separators. Color coordinated plastic components are an added complement. Catalina 8 and 6 blinds are available with several ladder spacing options to accommodate varying budget requirements.
request literature
request a quote
Material:

Aluminum

Slat Size:

1"

Operating System:

Manual - Cordlock

Motorized

Max Width:

142"

Max Height:

126"

Headrail:

1" x 1.5" profile, steel headrail

Colors:

79 possibilities

Privacy & Light Control:

Specialty Applications:

Uniform Exterior Appearance:

No

Orientation:

Horizontal

Safety Features:

Sustainability Features:

Slats made of recycled aluminum

Insulation:

Solar Heat Control:

Daylighting Properties:

Yes

UV Protection:

Sound Absorption:

Ease of Cleaning:

High Humidity Applications:

Yes

Price:

$
Durable 1" x 1 1/2" steel headrail
Reliable heavy-duty snap-in component system
Various ladder spacing options
Wide range of designer colors
Color coordinated plastic components
Fully enclosed bottomrail
Lifetime warranty
1" x 1 1/2" steel headrail
Anti-static paint performance to repel dust
Crash proof cordlock
Limited tilt feature to prevent over tilting
Enclosed bottomrail
.006" or .008" slat option
Privacy slat option
Perforated slat option
Specialty shapes
LIfetime Warranty
Competitive pricing
All products manufactured by Caco, Inc. are made in the U.S.A. Caco, Inc. promotes recycling and the use of recycled materials in all areas of our manufacturing process. This includes:
recycled steel and aluminum in all products
recycled vendor packaging in all facilities
Made in the U.S.A.

Specialty Options:
Wand tilt only
Motorization options available
Limited tilt feature to prevent over tilting
Perforated slat option
Accent channels
Multi-colored slats
Multiple ladder spacing options
Cut-Outs available
Specialty Applications:
Skylight blinds
Incline blinds
Motorization options available
Download & Link Center
Welcome to the MAG Resource Center. You can rely on MAG to provide you with reliable, trustworthy, credible product and industry information. Here you can find information and literature to help assist you in your buying or specifying process and on through to the installation, care, and maintenance of your product. If you can't find what you're looking for call MAG today at 330.294.0494 and speak with a knowledgeable Account Manager.