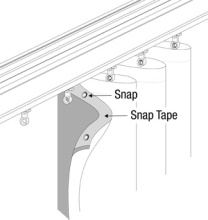 Ripplefold Sheers
Request a quote for price
Sheer Drapes are an excellent way to allow filtered light into your room and work best when layered with draperies and blackouts for complete light control. By adding sheers under your drapes, light comes in and you still have privacy. Sheer draperies provide a classic, rich, and custom appearance. COM available on all sheer and drapery product offerings.
request literature
request a quote
Our Ripplefold draperies attach to the track via a snap-tape, creating smooth, evenly spaced curves in the fabric, and are a great option for areas where complete blackout is not required such as public spaces or common areas, as this style of drapery is not as effective as others in light control due to the gap between the panel and the track. However, this style does make maintenance a breeze by easily being removed from the track via snap-tape and laying flat making cleaning and pressing simpler and less expensive. Ripplefold draperies also require less fabric, depending on the fullness, and can cover wider windows because the fabric stacks back tighter to the track ends than on any pinch pleat drapery. Ripplefold draperies provide your windows with a clean, uniform look inside and out.
MAG Resources promotes recycling and the use of recycled materials in all areas of our manufacturing and fabric sourcing process. This includes:
All materials meet NFPA 701 FR code
Attaches to track via snap-tape
No hooks or pins
Uniform appearance from the inside and outside
Spaced carriers ensure even spacing and control fullness
Headings suspended under track
Able to be tied back
Lining - 2 pass blackout, 3 pass blackout, cotton polyester, interlining (flannel)
Drapery available in center draw, off-center-open, left-draw, or right-draw configurations
Great for applications requiring frequent launderings such as hospitals and hotels
Competitive pricing
Fullness: 60-120%
Overlaps: 3 1/2" Standard
Returns: Fabricate to specifications
Heading:
4" washable buckram on pleats
Seams: Over-locked seams
Bottom Hems: 4" double fold
Side Hems: Blind-stitched 1 1/2" double turned
Weights: A covered weight is sewn at each seam and corner
Lining: 2 pass/3pass blackout in 4 different colors (great/white, grey/beige, white/white, ivory/ecru, and white/beige)
Hardware Type: Baton and ADA Batons available, Cord draw, Hand draw, or motorization available upon request. All tracks composed of extruded aluminum finish.
Draw: Center draw, off-center-open, left draw, or right draw
Mounting: Wall or ceiling mount
Stiffner/Buckram:
Optional 4" buckram sewed into header