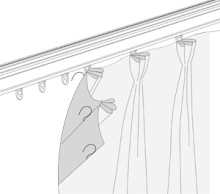 Pinch Pleat Sheers
Request a quote for price
Sheer Drapes
are an excellent way to allow filtered light into your room and work best when layered with draperies and blackouts for complete light control. By adding sheers under your drapes, light comes in and you still have privacy.
Sheer draperies
provide a classic, rich, and custom appearance. COM available on all sheer and drapery product offerings.
request literature
request a quote
Our draperies are fabricated (what kind of thread and stitch???) under the highest quality standards. This particular style of drapery creates an even, full look and when combined with our innovative z-hem provides excellent light control making it a perfect solution for hotels, healthcare facilities or any application where complete blackout is sought after. Pinch pleat draperies carry a superior insulation value and are one of the most energy efficient window coverings on the market. They are weighted at the bottom seams and corners to ensure even pleating and a smooth appearance. This particular style does require more room for the stack-back making them less suitable for wider window exposures. Choose from multiple track options including motorization to help meet the needs of any application and budget constraints. Combine with a top treatment, tie backs or sheer drapery for a very sophisticated look. Accent with throw pillows and shams.
MAG Resources promotes recycling and the use of recycled materials in all areas of our manufacturing and fabric sourcing process. This includes:
All materials meet NFPA 701 FR code
Attaches to slide carriers with slip-in or pin-on hooks
Able to be used with almost any track system
Able to be tied back
Features z-hem and stiffner for superior light control and performance
Features three-finger pinch pleats spaced approximately 3" to 5" apart
Fullness of pleats is typically 200% - 250%
Lining - 2 pass blackout, 3 pass blackout, cotton polyester, interlining (flannel)
Drapery available in center draw, off-center-open, left-draw, or right-draw configurations
Fullness: Pinch Pleat: 200-300%
Overlaps: 3 1/2" Standard
Returns: Fabricate to specifications
Heading:
4" washable buckram on pleats
Seams: Over-locked seams
Bottom Hems: 4" double fold
Side Hems: Blind-stitched 1 1/2" double turned
Weights: A covered weight is sewn at each seam and corner
Lining: 2 pass/3pass blackout in 4 different colors (great/white, grey/beige, white/white, ivory/ecru, and white/beige)
Hardware Type: Baton and ADA Batons available, Cord draw, Hand draw, or motorization available upon request. All tracks composed of extruded aluminum finish.
Draw: Center draw, off-center-open, left draw, or right draw
Mounting: Wall or ceiling mount
Stiffner/Buckram:
Optional 4" buckram sewed into header